Professionals who work in law enforcement, homeland security, fire and emergency management, and others who keep people safe are heading to Las Vegas for the 2021 National Homeland Security Conference (NHSC) in Las Vegas! MGM Grand will host the conference on the south end of the Las Vegas Strip, where you have everything you need to make the most of your trip, including direct access to the Las Vegas Monorail.
Register today to join other leaders in homeland security from August 30 – September 2, 2021, at MGM Grand in Las Vegas!
History of the Homeland Security Conference
The first Homeland Security Conference was held in 2005 in Dallas, Texas, as a platform for security professionals, police and fire chiefs, emergency management personnel and first responders to share information on their processes. As the event's reputation grew to be the hub for cutting-edge security technology, practices, training and services, it became the place for leaders in the security sector to connect.
Since the first conference, many U.S. cities have hosted the event, including San Francisco, Philadelphia, San Antonio, Tampa, Buffalo and New York City. Attendees include homeland security and emergency management professionals from the largest metropolitan areas in the country.
What to Expect at the 2021 NHSC in Las Vegas
The goal of the NHSC is to educate and inform attendees of the latest trends, technology and best practices emerging in the homeland security and emergency management sectors. This year will feature an impressive list of exhibitors demonstrating improvements in response time, emergency situations, personal protection and safety solutions.
Here's a peek at the schedule and what you can expect to see at the NHSC 2021 event:
Security Tours at Springs Preserve, Aria Resort & Casino and The Boring Company at the Las Vegas Convention Center
Panel Discussions
Interactive Workshops
Training Exercises
In-Depth Seminars
Competitions
Networking Events at TAO Nightclub and Allegiant Stadium
Make sure you check out the full list of exhibitors to make the most of the MGM Grand exhibition floor.
Seminars at the 2021 National Homeland Security Conference Las Vegas
The big draw for every annual NHSC event is the in-depth seminars taught by industry experts in every security field. Here's a peek at what types of seminars you can expect on this year's schedule:
Combating Domestic Violent Extremism – Moderator: David Kontny – "Integrating Threat Management Strategies in Preventing Targeted Violence," with Adrian Beas
Counterterrorism – Moderator: Douglas DeLancey – "Human Trafficking – Recognizing the Tales," with Tiffany Parker
Cybersecurity – Moderator: Dawn Thomas – "Best Practice: Cyber Liaison Officer (CLO) program; improving cyber proficiency among state/local law enforcement to increase cyber reporting," with Lance Larson, Ph.D.
Enhancing Information and Intelligence Sharing – Moderator: Sheryl Jardine – "Using Hybrid Intelligence and Predictive Risk Rating Modelling for Threat & Risk Analysis and Assessment," with Cihan Aydiner, Ph.D. and Hasan Suzen
Lessons Learned from Recent Events – Moderator: Terry Stoltzman – "2020 Hindsight: A Tale of Collaboration from COVID to Insurrection", with Clint Osborn and Jerica Shackelford
Planning – Moderator: Jennifer Schaal – "Harnessing New Perspectives in Neuroscience to Address the Psychology of Fear in Homeland Security Effectiveness," with Sam McGhee and Anne McGhee-Stinson
Public Health – Moderator: Elizabeth Dunn, "COVID 19 Response: Reaching the Whole Community especially the vulnerable", with Michael McClendon, Jennifer Kiger, and Michelle Carnahan
To learn more about NHSC events and seminars, check out the full conference agenda.
Convenient and Affordable Transportation With Las Vegas Monorail
Visiting Las Vegas for the NHSC 2021 event? Don't worry about expensive or unreliable transportation when traveling from your hotel to the conference. The Las Vegas Monorail is fast, clean, always on time and directly accessible from the MGM Grand! Here's what to expect when using the monorail for your Las Vegas transportation needs:
Energy-efficient trains arrive every four to eight minutes.
Rides are more affordable and accessible than cabs or ride-shares.
With seven stops along the Strip, you can easily get from your hotel to casinos, restaurants, shopping, nightclubs, and more.
You can ride the entire length of the Las Vegas Strip in just 15 minutes.
Las Vegas Monorail trains are clean, comfortable and air-conditioned.
Our monorail system is entirely electric and emission-free. By choosing eco-friendly transportation, you're helping us build a cleaner, safer city!
Take a Ride on the Las Vegas Monorail!
The Las Vegas Monorail is a quick and easy way to get around The Las Vegas Strip without spending your whole budget on transportation costs. With updated health and safety precautions and trains arriving every 4-8 minutes, use the fastest and most reliable transportation in Las Vegas by purchasing discounted LV Monorail tickets for NHSC 2021 attendees today!
Buy Discounted NHSC 2021 Monorail Tickets Here
When planning your trip for the NHSC event this year,  get your Las Vegas Monorail tickets before arriving online or through our app!
Las Vegas Monorail Stations and Map
The Las Vegas Monorail has seven stations that will make traveling to the Las Vegas Strip a breeze. Skip the hassles of traffic and parking and take a ride in our clean, air-conditioned trains from any of these locations: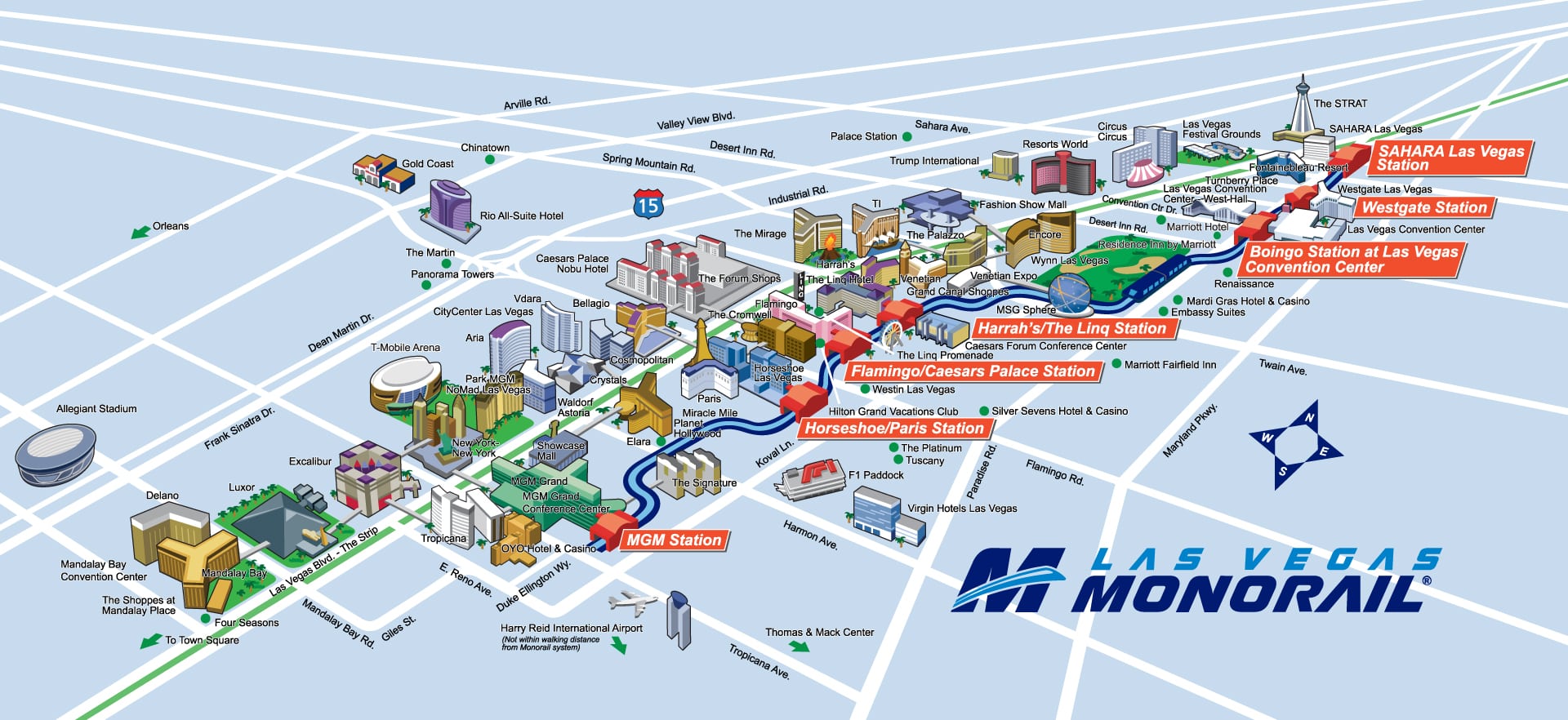 Las Vegas Monorail Convention Attendee Guide
Are you looking for more suggestions on how to plan your trip to Las Vegas? Everything Las Vegas is famous for is just a short ride away. Check out our convention attendee guide, including the best places to have breakfast and lunch, the best spots for post-convention happy hours, and other sights along the Strip. We hope to see you in Las Vegas for the 2021 National Homeland Security Conference!