Las Vegas Monorail is committed to ensuring that we provide one of the most environmentally-friendly transportation options for the Las Vegas Strip. Are you curious about environmentally-friendly transportation options in Las Vegas? Keep reading to find out how we make it possible!
Experience Las Vegas Monorail's Environmentally Friendly Zero-Emission Trains
Las Vegas Monorail is 100% electric and runs zero-emissions trains along 3.9 miles of the Las Vegas Strip. During city-wide events, the Monorail carries an average of 67,000 passengers. That's equivalent to 22,334 taxi trips for each of those city-wide events.
Las Vegas Monorail also looks for ways to conserve our electric operations. We use regenerative braking for all of our trains, which saves significant power consumption. Regenerative braking works by storing the excess energy that accumulates when Monorail train cars are slowed. At times, the use of this system can save up to 20%.
How does Las Vegas Monorail aid creating environmentally-friendly transportation options?
In 2019, the Monorail aided in the annual removal of an estimated 2.1 million vehicle miles from Southern Nevada's major roadways. 2.1 million miles is equal to more than nine trips to the moon. The Monorail is also responsible for reducing emissions by 27 tons of carbon monoxide (CO), volatile organic compounds (VOC), and nitrogen oxides (NOx) over the year.
In just one year, the Las Vegas Monorail is responsible for removing the equivalent of 23 black rhinoceros of these types of emissions. That's a whole herd of emission reduction!
Why is the reduction of carbon monoxide essential?
Carbon monoxide is the most commonly produced emission by roadway vehicles. Heavy concentrations can be found in cities with high populations of commuters. Volatile organic compounds are toxic and have been linked to cancer. Finally, when nitrogen oxides are released into the environment, they create reactions in the ozone that can lead to acid rain and damage to the earth's delicate ecosystems.
This is why the Las Vegas Monorail makes a significant effort to promote environmentally friendly transportation options of Las Vegas visitors, particularly during large events and conventions.
Las Vegas Monorail Stations and Map
The Las Vegas Monorail has seven stations that will make traveling to the Las Vegas Strip a breeze. Skip the hassles of traffic and parking and move seamlessly.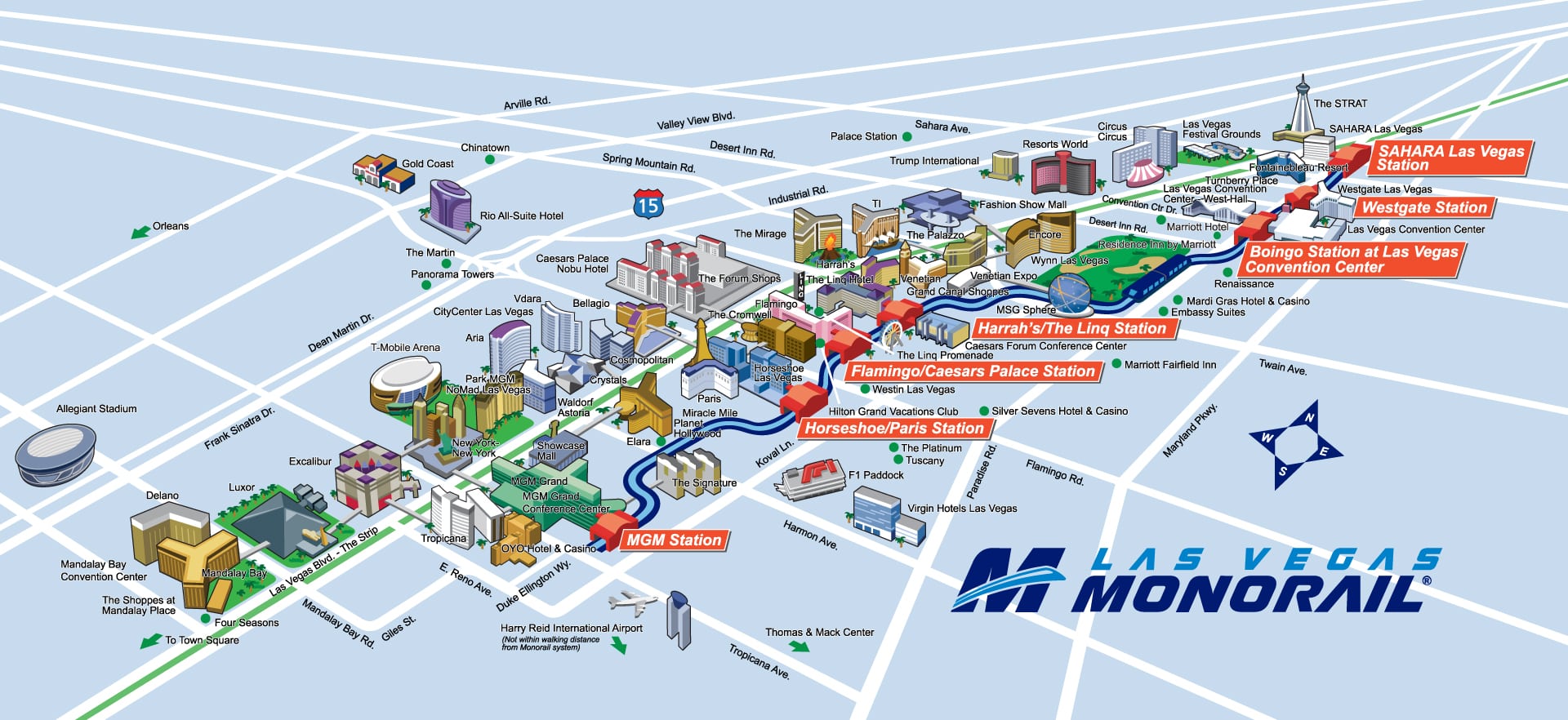 A Special Promo to Say "Thank you!"
We appreciate your support during this challenging time, and we know you're ready to get back to Las Vegas. Please enjoy 10% off your next ride!
To take advantage, purchase your tickets through the link below. The 10% discount will be applied automatically to all valid ticket types. Tickets are valid for one full year from the purchase date.