After a short break due to COVID-19 complications, the Global Gaming Expo is coming back! Thanks to The American Gaming Association and Reed Exhibitions, it will take place in Las Vegas, NV, at the new Venetian Expo (formerly the Sands Expo). The event will be in-person from Monday, October 4th through Thursday, October 7th, 2021, but there will also be a number of virtual aspects of the event for people who feel more comfortable staying at home this year.
Register today to join other leaders in the gaming industry from October 4-7, 2021, in Las Vegas!
History of the Global Gaming Expo
The Global Gaming Expo has been held for 20 years, providing the gaming industry with the latest and greatest in technology, information and products. The first event took place in October of 2001 at the Las Vegas Convention Center. There were 375 exhibitors present, with just under 10,000 people attending. Some of the most notable speakers at the event included Whoopi Goldberg and Alex Yemenidijian, who was the CEO of MGM Studios at that time.
At the 10th annual G2E event, it was determined that next year's event would be changed over to the Venetian Expo and has remained there each year since. The time of year was altered a little bit as well to leave a gap between other related events in the industry. It now takes place regularly in October. To date, the annual attendance is usually around 25,000 people. It received the honor in 2017 of being one of the top 25 fastest growing trade shows.
2021 Global Gaming Expo Event Highlights
There is a lot to take in at this year's event! You'll find exhibits for everything from indoor air quality professionals to E-Sports pros. Some of the vendors and exhibitors that are set to be featured at the event include:
Scientific Games Corporation
Aristocrat Gaming
JCM Global
APEX Pro Gaming
Eclipse Gaming Systems LLC
Quixant USA
Gaming Arts LLC
Patir Casino Seating
Video King Gaming Systems
Patriot Gaming and Electronics
G2E will also feature an impressive education program that offers insight into today's gaming trends,  operational improvements and issues related:
Gaming regulations
Advertising
Investors and financing
The gaming market
iGaming
Sports betting
Customer experience
The future of gaming
Check out the full G2E 2021 schedule for a complete look at what you can expect from this year's event.
Buy Discounted G2E Expo Monorail Tickets Here
Las Vegas Monorail Train Hours
Monday: 7 am – 12 midnight
Tuesday: 7 am – 2 am
Wednesday: 7 am – 2 am
Thursday: 7 am – 2 am
Friday: 7 am – 3 am
Saturday: 7 am – 3 am
Sunday: 7 am – 3 am
2021 G2E Health and Safety Guidelines
Please note that certain vaccination and face covering requirements are in place for attendees planning to enter the Expo. Anyone coming to the event must provide proof of COVID-19 vaccination. Exhibitors, speakers, staff and attending media must also be vaccinated before coming to the event.
Regarding face coverings, Nevada and Las Vegas are following the most recent CDC mask guidelines. Everyone in attendance at G2E must be wearing an appropriate face covering that protects their nose and mouth. Changes may be made to the face-covering requirements as the event approaches, based on changes to the mask policy outlined by state or federal government officials.
You can find information regarding G2E health and safety guidelines on the Global Gaming Expo website.
Convenient G2E Transportation With Las Vegas Monorail!
If you're visiting Las Vegas for the Global Gaming Expo, you don't have to worry about expensive or unreliable transportation. The Las Vegas Monorail provides fast, clean, and dependable transportation from all the major stops on the Strip! Here's what to expect when using the monorail for your G2E transportation needs:
Energy-efficient trains arrive every four to eight minutes.
Rides are more affordable and accessible than cabs or ride-shares.
With seven stops along the Strip, you can quickly get from your hotel to casinos, restaurants, shopping, nightclubs, and more.
You can ride the entire length of the Las Vegas Strip in just 15 minutes.
Las Vegas Monorail trains are comfortable and air-conditioned.
Our monorail system is entirely electric and emission-free. By choosing eco-friendly transportation, you're helping us build a cleaner, safer city!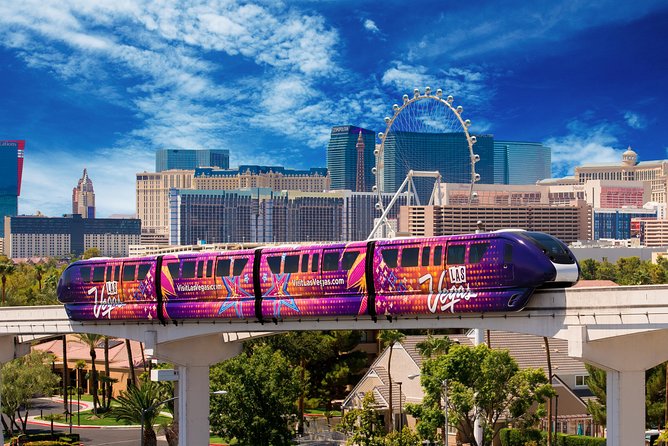 Ride the Las Vegas Monorail Today
The Las Vegas Monorail is a quick and easy way to get around The Las Vegas Strip without the expense or long waits you'll find with taxis or rideshares. With updated health and safety precautions and trains arriving every 4-8 minutes, use the fastest and most reliable transportation in Las Vegas by purchasing discounted multiple-day LV Monorail passes today!
Buy Discounted G2E Expo Monorail Tickets Here
Las Vegas Monorail Stations and Map
The Las Vegas Monorail has seven stations that will make traveling to the Las Vegas Strip a breeze. Skip the hassles of traffic and parking and take a ride in our clean, air-conditioned trains from any of these locations on the Strip:
Las Vegas Monorail Convention Attendee Guide
Are you looking for more suggestions on how to plan your trip to Las Vegas? Everything Las Vegas is famous for is just a short ride away. Check out our convention attendee guide, including the best places to eat, the best spots for post-convention happy hours and other noteworthy stops along the Strip.
We look forward to seeing you in Las Vegas for the 2021 Global Gaming Expo!