Las Vegas is one of the most exciting and unique cities you can visit in the world. With so many people heading to Vegas every year for vacations, parties, conventions and more, the idea of getting around town can be daunting. However, it doesn't have to be!
The Las Vegas Monorail is the fastest and cleanest way to travel the Strip, providing several advantages over other forms of transportation. Here's how the Monorail can add convenience to your fun-filled Las Vegas trip:
1. No Long Waits
Are you running late for the tradeshow or trying to beat the evening traffic to make your special Las Vegas dinner reservation? No need to rush. Monorail trains arrive every 4-8 minutes at every station. You can easily depend on the Monorail's consistency and speed when planning your schedule or overall itinerary. In fact, you can travel from one end of the Strip to the other in under 15 minutes!
2. No Traffic
When driving, taking a cab, or using a rideshare service, you're at the mercy of the Las Vegas Strip traffic. And if you happen to be going out just as a concert or game ends, you're bound to get stuck in bumper-to-bumper traffic for blocks on end. The Monorail travels independently of Las Vegas streets, gliding high above packed roads and speeding its way around congested intersections. You'll never have to sit in traffic again when choosing to ride the Monorail.
3. No Parking Fees
Although Las Vegas was well known for offering free parking on the Strip, most properties now charge for parking if you're not a hotel guest or a Nevada resident. If you plan on driving your own car as you explore Las Vegas, parking fees can add up quickly and put a dent in your vacation budget.
By using the Monorail to get around the boulevard, you won't have to worry about all the stresses that come with parking, including fees, looking for a spot, waiting in line at the pay kiosk, and dealing with traffic as you exit. With fast and reliable transportation on the Monorail, you can hop on and off in an instant.
4. More Affordable Than Other Forms of Transportation
If you happen to be on a budget, the Las Vegas Monorail offers affordable ticketing options to make getting around more affordable than ever. You can purchase a ticket for just one ride or unlimited rides with 1-day passes up to 7-day passes. Depending on how long you plan to stay in Las Vegas, you can rack up substantial savings when compared to rideshare or cab rates.
Looking for discount Las Vegas Monorail coupons? The Monorail also offers group discounts for parties of 12 or more, Nevada resident discounts, and discounts for convention attendees. Check out the convention or tradeshow registration website for links to specific deals for those particular events.
5. Safety and Cleanliness
The Las Vegas Monorail has high cleaning and sanitation standards, with a dedicated staff maintaining every station and train car. You'll feel safe and comfortable as you enter the well-lit stations or step onto the trains. And if you're trying to beat the Las Vegas heat, you'll be happy to know all Monorail trains are air-conditioned!
6. Seven Locations Spanning the Las Vegas Strip
No matter where you happen to be on the Strip, there is a Monorail station close to you. There may even be a station attached to where you're staying! From the south end of the Strip to the north, you can catch the Monorail at any of these 7 locations: MGM Grand, Horseshoe/Paris Station, Flamingo/Caesar's Palace, Harrah's/The LINQ, the Las Vegas Convention Center, Westgate, or SAHARA Las Vegas. You can purchase tickets at any of these Las Vegas Monorail stations.
7. Zero-Emissions Trains
Speaking of cleanliness, the Las Vegas Monorail is completely electric and only operates zero-emission trains! The system was designed to save power consumption using regenerative braking to store excess energy. In addition, using the Monorail for your transportation needs means fewer cars on the road and far less carbon monoxide in the air. Learn more about our environmental efficiency and how we're contributing to a cleaner tomorrow.
8. See the Las Vegas Sights
The Monorail is an elevated rail system that makes traffic a non-issue. Not only does this get you to your destination quickly, but it also offers some great views of the Las Vegas Strip hotels, pools, attractions, and more along the Monorail route. Although it's not an official sightseeing tour, you'll definitely get to see a lot of the Strip while riding the Monorail.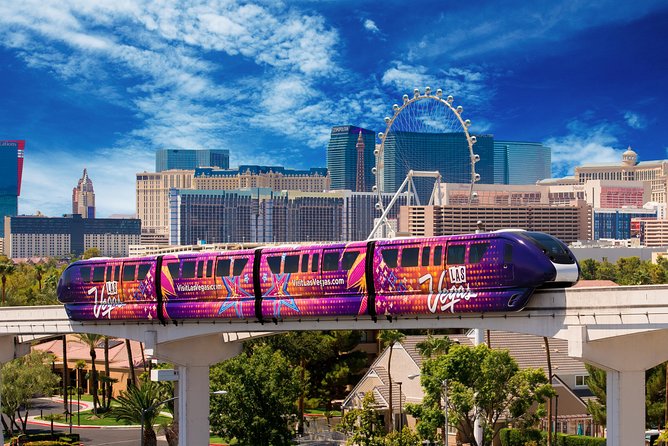 Convenience, Speed, and Comfort With Las Vegas Monorail
If you're planning your next Las Vegas vacation, be sure to check out the Las Vegas Monorail. You can count on reliable, quick, and affordable transportation that makes it easy to get around Las Vegas on a budget. You can purchase your tickets online ahead of time using our app or use any of our convenient station kiosks when you get here. See you in Las Vegas!
NOTE: Monorail passengers will be required to wear face masks. The CDC guidelines still require face masks in certain settings, including public transportation. For more information on our passenger safety measures, please see
What to Expect When You Ride the Monorail
.