Transportation in Las Vegas
Are you ready to see everything Las Vegas has to offer? We're excited you're thinking about a trip here, and we want to help with some stellar info on transportation options in Sin City.
The Las Vegas Monorail is a great option for locals and visitors alike, but we've also included other transportation options to make your travel seamless!
Getting to Las Vegas
Most Las Vegas visitors will arrive by plane, and there is just one airport for Las Vegas visitors: Harry Reid International Airport (it's the one with slot machines in the terminal).
We haven't forgotten our visitors from Southern California. If you're part of this group, don't miss the parking info below!
Take advantage of the low ticket prices for the Las Vegas Monorail when you purchase tickets online today!
How to get around Las Vegas
Las Vegas is one of the most popular tourist destinations in the world, so it's not surprising that there are plenty of options for getting around the city. With all of the exciting opportunities that Las Vegas has to offer, it's essential to understand the multiple ways to travel through the city and, most importantly, down the Strip!
How to get to your Las Vegas hotel
Las Vegas rideshares
Anyone familiar with air travel will likely have used rideshares to get to or from the airport. Ridesharing is an excellent choice for Las Vegas airport pickup and traveling to your Las Vegas hotel.
You'll need to meet your driver at a specific pick-up point. Rideshare for Terminal 1 is located at level 2M of the parking garage. Terminal 3 rideshare pick-up is located at the valet level of the Terminal 3 parking garage. Just be sure that you have the right vehicle and driver. We recommend asking your driver to tell you when they are there to pick you up.
Las Vegas taxis
Over ten taxi companies offer service to and from Harry Reid International Airport. Some will not accept credit cards, so confirm before getting inside. You'll find the taxi queue just outside the doors for the baggage claim. They are also available at the Rent-A-Car Center. Some popular private limousine airport transfers include Bell Limousine and Presidential Worldwide Luxury Transportation.
Las Vegas airport shuttles
Harry Reid International Airport accommodates the use of group and private shuttles. Shuttles are available at both Terminal 1 and Terminal 3. We recommend checking with your hotel to see if they offer a shuttle from Harry Reid International Airport. If you are traveling to Las Vegas for a special event, be sure to mention that to the hotel representative as well.
Rent a car at Harry Reid International Airport
Rental cars are available at Harry Reid International Airport, and the rental center is located just three miles south of the airport. Shuttles are available to take guests to the rental center. Cars are available from all the major rental companies. We recommend making a reservation in advance if you plan on renting a car.
Renting a car might be the right choice if you're planning on exploring the surrounding areas or if you're not planning on staying or spending time on the Strip. If you are spending the majority of your time on the Las Vegas Strip, a rental car will likely be more of a hassle than a benefit.
Public bus transportation
The Regional Transportation Commission (RTC) of Southern Nevada provides bus services to and from Harry Reid International Airport. For more information, read about the routes available.
Driving to Las Vegas
Are you ready for a road trip? Driving to and from Las Vegas is doable, but you want to make sure you plan and consider timing and traffic.
Always be sure to have plenty of water with you. You are driving through the desert, after all. Watch your speed. It can be tempting to fly down the road, especially with little to no traffic, but it's also a great place to get a ticket.
Keep traffic in mind, especially on holiday weekends, when you can easily spend 7 to 11 hours traveling in one direction. If you can, plan to leave late or early or, even better, stay an extra day and avoid some of that traffic.
Parking in Las Vegas
Parking fees have become more prevalent in Las Vegas so it helps to know ahead of time if your hotel will charge you for Las Vegas parking. Thankfully, Vegas.com has a full run-down on parking at each of the hotels in Vegas.
The key is knowing where you're going, what your parking options are, and if another Las Vegas public transportation option is better.
Hotels with free parking in Las Vegas
Palazzo

Palms

Rio

Stratosphere

Treasure Island

Tropicana

Venetian

Wynn Las Vegas
TOP TIP: SAHARA Las Vegas and the Westgate Las Vegas both offer free parking. From there, hop on the Las Vegas Monorail and make your way to any of our stations.
Getting around the Las Vegas Strip
A lot is happening on the Las Vegas Strip, and making your way through it can be a little hectic. Lucky for you, there are options! Keep reading to get the low down on some of the available Las Vegas Strip transportation options. Once you have a plan for getting around, you can expect to have the trip of a lifetime!
Las Vegas Monorail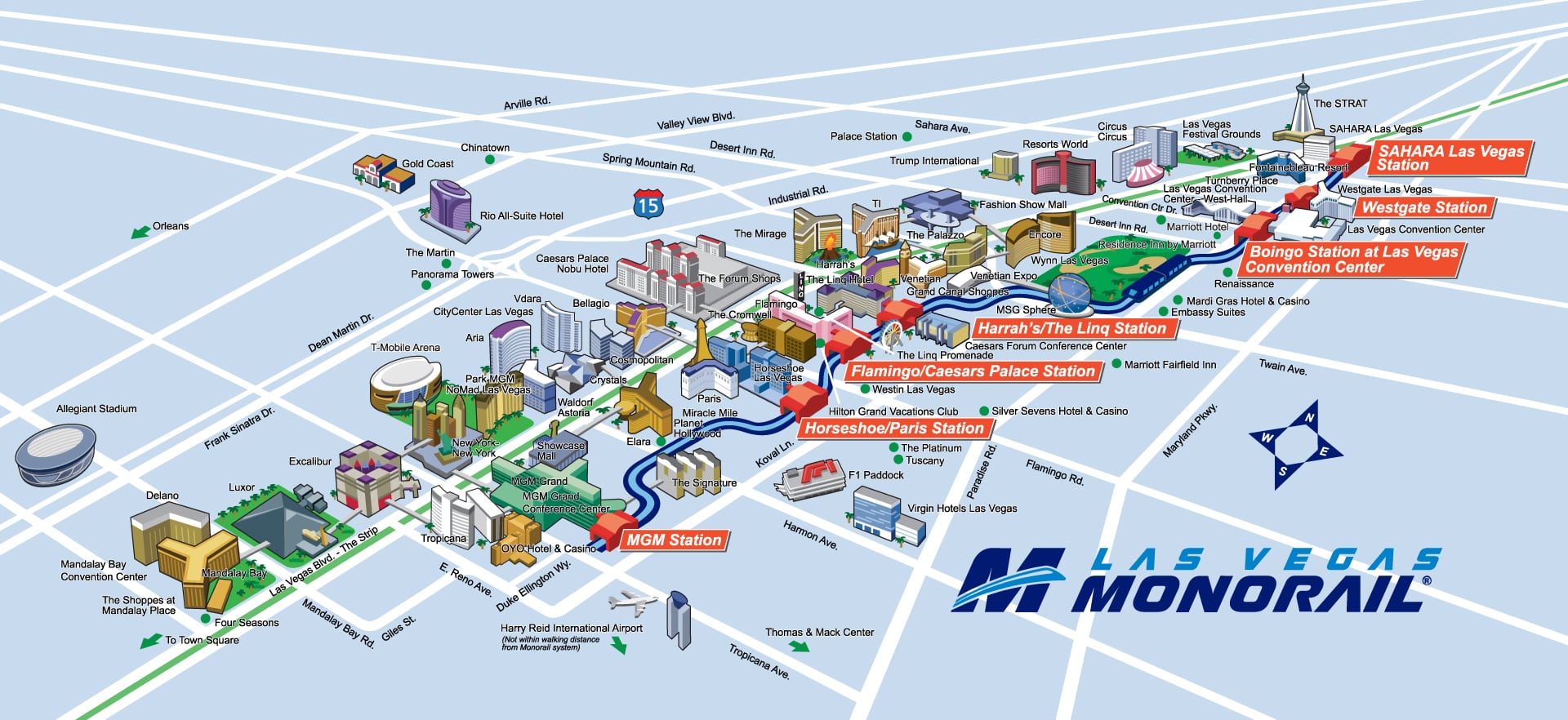 The Las Vegas Monorail is an excellent option for traveling along the Las Vegas Strip. The Las Vegas Monorail is ideal for traveling for large events and conventions and for avoiding the hassles of traffic and parking. We have both single-ride and unlimited-ride passes available, and we have extended hours on the weekends.
Train hours
Monday: 7 a.m. to 12 midnight
Tuesday: 7 a.m. to 2 a.m.
Wednesday: 7 a.m. to 2 a.m.
Thursday: 7 a.m. to 2 a.m.
Friday: 7 a.m. to 3 a.m.
Saturday: 7 a.m. to 3 a.m.
Sunday: 7 a.m. to 3 a.m.
Trains arrive every 4 to 8 minutes.
Las Vegas Monorail stations
Free shuttles at Las Vegas Monorail stations
Tourists who travel the Las Vegas Strip have one more reason to ride the Las Vegas Monorail. For guests interested in utilizing one of the shuttles operated by our partners, we recommend contacting the concierge desk at the hotel and casinos for the most current information on their Las Vegas hotel shuttle offerings.
Rideshares on the Las Vegas Strip
Rideshares are available on the Las Vegas Strip, but there are a few things you need to know before requesting a ride. Most places on the Strip have a designated area where you must meet your driver (no pickups in the middle of Las Vegas Blvd.).
If there is a high demand for a ride, you will most likely encounter surge pricing. You can also expect surge pricing before, during, and after significant events or on holidays. Keep in mind that it will be difficult to avoid traffic in these circumstances if you choose to travel via rideshare.
Purchase Las Vegas Monorail tickets online
Welcome to Las Vegas
We're glad you are planning a trip to Las Vegas, and we hope the Monorail can be a part of your transportation plans.
We're happy to answer any additional questions you have about traveling in Las Vegas. Give us a call or find us on social media. Happy traveling!