Scan and Go!
For the first time, the Las Vegas Monorail has introduced the ability to Scan and Go using your mobile device at all Las Vegas Monorail Stations. There's no need to print tickets, or fuss with or redeem confirmations. Simply pull up your mobile tickets and scan the barcode at the Monorail fare gate. It's that easy!
Help the Las Vegas Monorail keep Las Vegas green by purchasing a Mobile Ticket!
How does it work?
Once you have purchased your Las Vegas Monorail passes, you will receive an email that includes your mobile ticket.
Keep this handy, you'll need it once you arrive at the station and prepare to board.
To enter the fare gates, simply hold your barcode up to the scanner located in the center of the fare gate. The machine will read and recognize your tickets, and the fare gates will open.
Pretty easy, right?
A few tips
If the fare gate will not scan your mobile ticketing barcode, check to see if the brightness of your phone is turned up. Often, scanners need a bit more light to see barcodes correctly.
Are you still having some trouble? Look for a Las Vegas Monorail employee and we can assist you. If no Monorail employee is available, please press the button on the emergency telephone located near the fare gates and wait for an operator to answer your call. We're here to assist with any malfunction or in the case of an emergency.
Can I still buy tickets at Monorail Stations?
Absolutely! Single and unlimited-ride passes will still be available for purchase at our customer service offices and at our Ticket Vending Machines.
Please note that Ticket Vending Machines only offer the following ticket types:
Single Ride Ticket
Unlimited 24-Hour Pass
Unlimited Three-Day Pass
Other ticket types must be purchased at a Customer Service Office. You can also purchase tickets online using your mobile phone's browser to Scan and Go!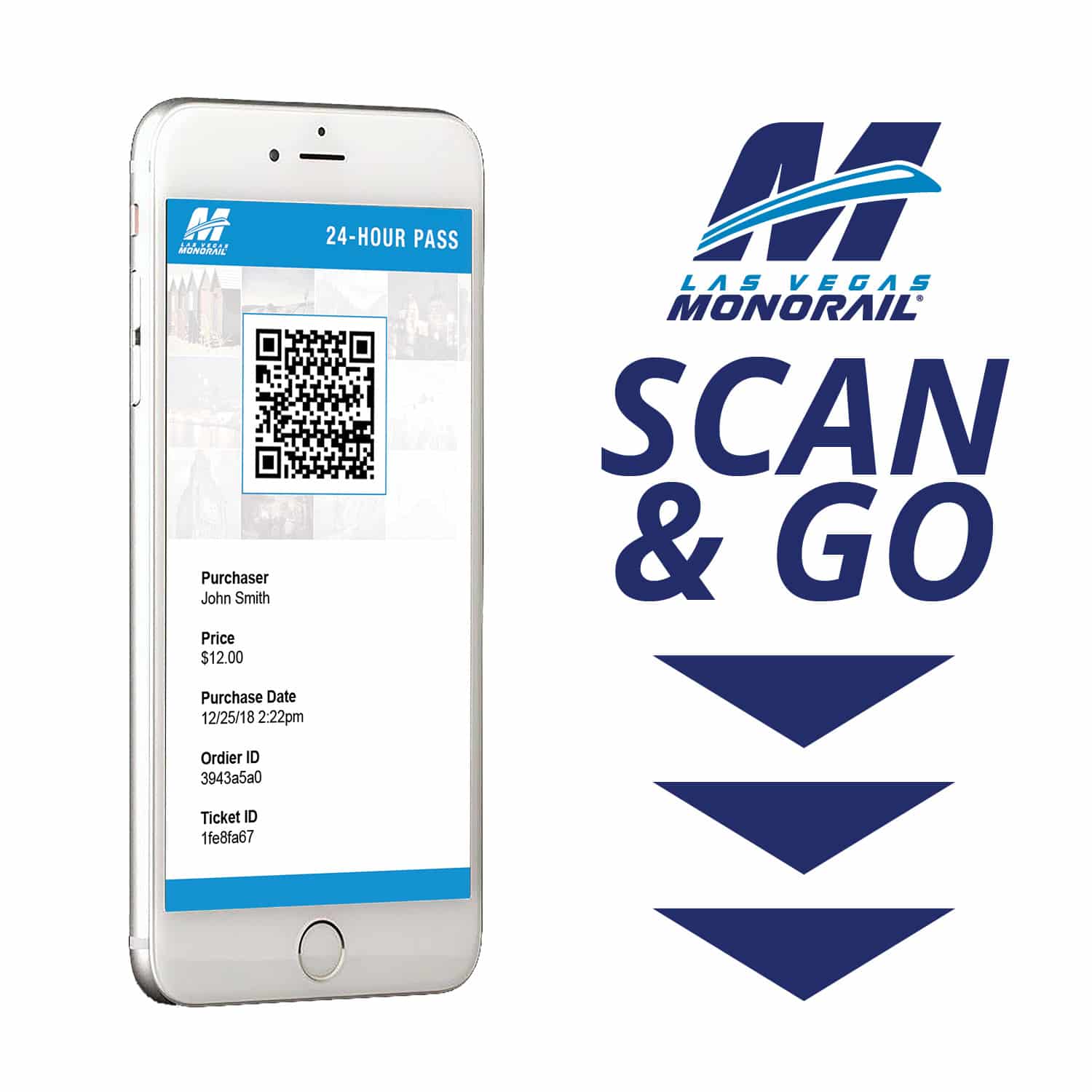 When do my tickets expire?
Mobile tickets are valid for one year from their purchase date. If you purchase a Monorail pass online on January 1, 2018, your mobile ticket won't expire until January 1, 2019.
The One-ride ticket loses its value after the ride has been taken.
Unlimited Day Passes are good for unlimited rides for the time period listed on the Mobile Ticket. This time begins the first time you use the ticket at a fare gate during operational hours and remains valid for the number of consecutive days, as printed on the ticket. Each "day" equals a 24-hour period.
What about vouchers and myVEGAS Rewards?
Vouchers and myVEGAS Rewards must still be presented and redeemed for physical tickets at Las Vegas Monorail Customer Service Ticketing Offices (open daily from 10 am to 6 pm) located at the following stations: MGM Grand, Horseshoe/Paris Station, Flamingo, Harrah's/The LINQ, Westgate Las Vegas, and Sahara Las Vegas.
Where are the Las Vegas Monorail Stations?
More questions?
You can reach our Customer Service team at 702-699-8200 Monday through Friday, 8 a.m. to 5 p.m. PST, or email customerservice@lvmonorail.com. Outside of administrative business hours listed above, please contact 702-699-8222. We will do our best to get back to you as soon as possible!
Go paperless and travel the Strip in minutes!
Be one of the first people to zip the Strip using our new mobile ticketing option. It's one more way the Las Vegas Monorail is making travel environmentally friendly, fast, and fun!