It's no secret that Las Vegas is home to some of the most incredible sportsbooks in the world. Just on the infamous Las Vegas Strip alone, you are guaranteed to find some of the best and biggest sportsbooks that Las Vegas has to offer. Whether you're looking for some fun activities to do on a bachelor trip or are in Vegas strictly to hit it big, you are guaranteed to find a sportsbook on the Las Vegas Boulevard that has everything you are hoping for in Vegas sports gambling and more.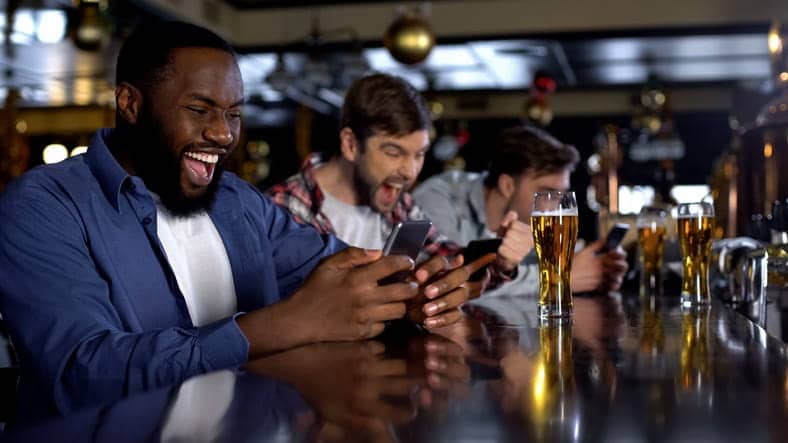 If you're in Las Vegas and are looking to check out the sportsbooks along the Strip, the Las Vegas Monorail can get you everywhere you want to go!
Where is the best sportsbook in Las Vegas?
Some of the top sportsbooks in Las Vegas to check out during your upcoming trip include: 
Wynn Sportsbook
This luxurious sportsbook is home to a 1,600-square-foot LED screen that ensures no one misses a single moment of the night's hottest sporting events. Wynn has plenty of seats at the bar for you to grab a drink and socialize, all while maintaining a perfect view of their massive screens.
MGM Grand Sportsbook
The BetMGM Sportsbook offers 36 65-inch LCDs and 24 42-inch plasma televisions to view a variety of sports, such as basketball, baseball, football, hockey, and soccer. They also offer comfortable leather seating so you can sit back and enjoy the games. You won't miss anything while betting at BetMGM.
Please note that the sportsbook is entirely non-smoking.
Paris Las Vegas Sportsbook
Place wagers on your favorite teams or bet on horses at the newly renovated Caesars Race & Sportsbook in Paris Las Vegas. They offer 1,200 square feet of high-resolution LED screens and 12 odds boards plus nine 86" TVs and 12 carrels dedicated to horse racing.
You can bet faster and return to the action with their convenient self-service betting kiosks, so be sure to check out Paris Las Vegas while you're in town.
Caesars Palace Sportsbook
Caesars Palace is a fan favorite for many sports betting enthusiasts. This sportsbook is home to a 143-foot HD LED video board that ensures no one on-site misses anything from the evening's biggest sporting events. Caesars has plenty of space for everyone to enjoy their favorite sports while placing as many bets as they wish. This delightful sportsbook is a must-visit for anyone in Vegas who is interested in experiencing a true Las Vegas sportsbook.
Where is the Biggest Sportsbook in Vegas?
Westgate Resorts Superbook
If you're seeking out the biggest sportsbook in Las Vegas, look no further than SuperBook Westgate Las Vegas, located within Westgate Resorts. This is the world's largest sportsbook and is also referred to as the "Best of Las Vegas" Race & Sports SuperBook! With high-action entertainment and over 30,000 square feet of space for sports betting, you can enjoy over 350 seats and an impressive 220-foot-by-18-foot 4K video wall to enjoy all your sports betting desires!
Where to bet on sports in Vegas?
As evidenced above, there are endless opportunities to bet on sports in Las Vegas. Another option could be:
Circa Sportsbook
Also known as the newest sportsbook in Downtown Las Vegas, this spot should be a non-negotiable one during your Vegas trip. This impressive sports betting establishment consists of a 3-story tall screen comprising 78 million pixels, making it the largest in all of Las Vegas. 
As if this magnificent screen wasn't enough, you'll be even more impressed with Circa's Stadium Swim pool deck, which also serves as another theater from which you can watch the hottest sporting events in the world. Who wouldn't want to spend their trip to Vegas lounging poolside while watching endless sporting events? 
Las Vegas Monorail
One of the best perks of visiting various sportsbooks in Las Vegas is the easy access to the Las Vegas Monorail. This public transportation system will allow sports bettors to safely travel down Las Vegas Boulevard, whether to check out multiple sportsbooks during NFL playoffs or return to a hotel for a good night's rest after the Superbowl. 
The Las Vegas Monorail prices depend on whether you purchase single-trip or day passes. Las Vegas locals and tourists alike can buy Las Vegas Monorail tickets online to receive the Monorail discount and get a head start on planning an unforgettable Las Vegas vacation experience (filled with sports betting, of course!)
If you are planning to spend time visiting sportsbooks in Las Vegas, purchase your Las Vegas Monorail tickets online to save now!
How much is the Monorail in Las Vegas?
The Las Vegas Monorail is inexpensive and offers a variety of ticket options, which allows tourists and locals to invest in whichever option may be of the best value for their Las Vegas travel itinerary. Whether you're looking to do Las Vegas on a budget or are simply curious about the best means of transportation within the city, the Las Vegas Monorail has something to offer everyone.
While tickets may be purchased in person at one of the many stations, purchasing tickets online often proves to be the most beneficial option due to the variety of online discounts offered for each type of pass. Standard online ticket prices for the Las Vegas Monorail are as follows:
Single ride

: $5.50

24-hour pass

: $13.45

2-day pass

: $23.75

3-day pass

: $29.95

4-day pass

: $37.00

5-day pass

: $44.50

7-day pass

: $57.50 (that's only $8.21 a day!)
In addition to these inexpensive Las Vegas Monorail prices, the Scan & Go Mobile Tickets allow you to keep your tickets directly on your smartphone so you can travel with ease, knowing your virtual tickets are easily accessible within your phone's wallet.
If you are planning a trip to the world-renowned Las Vegas Strip for some sports betting, be sure to purchase your Las Vegas Monorail tickets online to save on your visit!
Where does the Monorail go in Las Vegas?
The Las Vegas Monorail travels nearly the entire length of the Las Vegas Strip, with its stops near some of the biggest attractions in Las Vegas. The Monorail route consists of the following stops:
The locations of these various stations make traveling through Las Vegas a breeze and can get you to any of the popular sportsbooks along the Las Vegas Strip, as well as any other Las Vegas attraction you can think of. Whether you're in Vegas for a genuine nightlife experience or are hoping to place some winning bets along Las Vegas Boulevard during March Madness, the Las Vegas Monorail is guaranteed to be your best transportation option in terms of cost and convenience. 
So, what are you waiting for? Save some extra cash by purchasing your Monorail tickets online today, and place some winning bets on your favorite teams!
Purchasing tickets for the Las Vegas Monorail guarantees you can save some money for extra bets at the sportsbook along Las Vegas Boulevard during your trip!
The best way to enjoy betting on sports
What could be more fun than enjoying sports betting in the infamous Party Capital of the World? It's almost as if Las Vegas was made for fans of sportsbooks and placing lucrative bets on the top teams in the league. The Las Vegas sportsbooks offer an amazing opportunity to meet new people, enjoy sports games and beverages, and place high-stake bets late into the evening. No matter which sporting event you come for, Las Vegas sportsbooks are guaranteed to offer an incredible experience for anyone.
Sources: 
Caesars Race & Sportsbook at Caesars Palace.