Tacos in Las Vegas, what more could you really want? Given its international fame and the pride it takes in embracing other cultures, it's unsurprising that Las Vegas has some of the most delicious tacos you could ask for. Whether you're in the mood for tacos and are actively seeking your fix or are just looking for a good meal during a night of partying, there are plenty of amazing restaurants and street vendors to choose from.
Best tacos in Las Vegas, Nevada
If you consider yourself a taco connoisseur, it may be worth your while to check out a few of the different taco places along the infamous Las Vegas Strip. Whether you're looking to enjoy some tacos at a restaurant or a street vendor, there are plenty of famous tacos in Las Vegas to choose from. 
The Las Vegas Monorail can easily help you achieve your goal and travel to more than one taco place as its route hits nearly every major attraction on the Vegas Strip. Why not take advantage of the Monorail and enjoy a couple of tacos during your Vegas trip?
If you are looking to enjoy one of the many famous taco places in Las Vegas, purchase your Las Vegas Monorail tickets online to save on your transportation plans ahead of time!
Best restaurants for tacos in Las Vegas
While food trucks are a fun way to get some good tacos, some people may prefer to sit down and enjoy their tacos at a restaurant or other establishment. If you're looking for a less informal taco option, look no further than the following Las Vegas restaurants.
El Segundo Sol at Fashion Show Mall Las Vegas
This restaurant provides a beautiful, rustic setting and often has a very busy outdoor scene. El Segundo Sol offers a delicious Mexican-style menu and has signature tacos that are certainly worth a visit.
Yolos Mexican Grill at Planet Hollywood
With close proximity to the heart of the Las Vegas Strip, the Yolos Mexican Grill is the perfect place to enjoy a Vegas casino as well as some delicious tacos. The Yolos Mexican Grill menu proudly offers Caribbean and South American dishes in addition to their Mexican options.
China Poblano at The Cosmopolitan
As the name suggests, this unique restaurant serves both Chinese and Mexican options — and really, what could be better? China Poblano takes pride in its variety of authentic Chinese and Mexican dishes and is absolutely a great place to stop for dinner. It's not surprising that a restaurant of such a unique nature can be found in Las Vegas.
Tacos El Gordo
This taco shop is a little more on the non-traditional side as far as restaurants go. Tacos El Gordo is a counter-service taco place that serves Tijuana-style homemade tacos. This taco spot is so good that it often experiences lines that wrap around the block, which is clear evidence that this place is certainly worth a visit for any taco lover! If you're interested in checking out Tacos El Gordo and are traveling via the Las Vegas Monorail, it's just a short walk from the Las Vegas Convention Center Station, making it a quick and easy taco trip.
Javier's at ARIA
Located inside ARIA resort located just off the Las Vegas Strip, Javier's Mexican restaurant offers some amazing tacos in addition to their fun energy! Javier's allows guests to reserve rooms for private events, making it a great place to host a party or kick off the evening before hitting the Las Vegas Strip!
Hussong's Cantina at Mandalay Bay
Located within the infamous Mandalay Bay, Hussong's Cantina is an incredibly well-known Mexican restaurant in Las Vegas. The convenient location makes Hussong's a great place to enjoy a margarita and some tacos before embarking on your Las Vegas nightlife adventures.
Tacos El Pastor
If you're looking for authentic Mexican food right on the Las Vegas Strip, Tacos El Pastor is the place for you. With a head chef hailing straight from Northern Mexico, Tacos El Pastor is proud to serve some of the best tacos in Las Vegas. 
Tacotarian
While this restaurant may be located just off-strip in Downtown Las Vegas, the Monorail can certainly get you close enough to this plant-based taco spot. Tacotarian allows vegans and vegetarians to continue to enjoy the deliciousness of tacos. If you prefer eating plant-based and are looking to enjoy some of the famous tacos in Las Vegas, Tacotarian is the place for you!
Las Vegas Monorail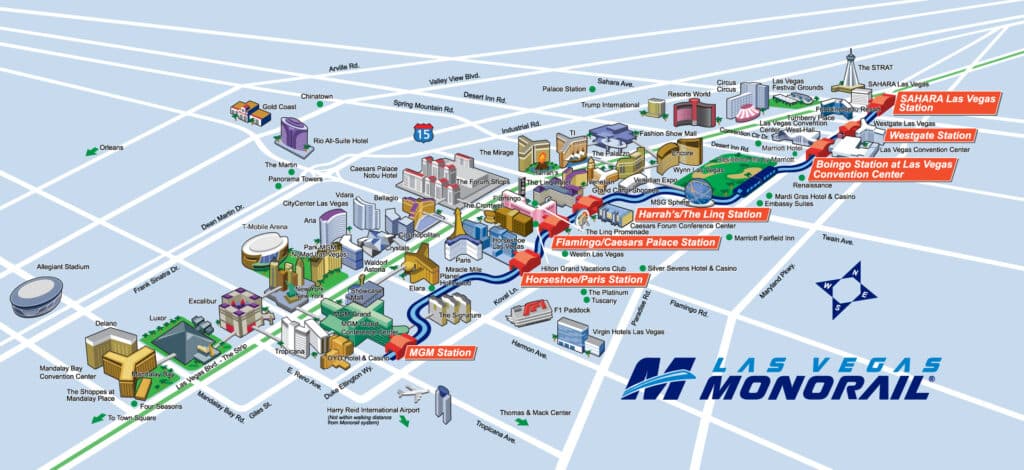 One of the most convenient parts of visiting Las Vegas is the easy access the Las Vegas Monorail provides to everything along the Las Vegas Strip, and more specifically, in this case, to some of the world's best taco restaurants. This public transportation system will allow taco lovers to travel down the Las Vegas Strip to enjoy some of their favorite Mexican dishes while enjoying the incredible Las Vegas nightlife.
The ticket prices for the Las Vegas Monorail are dependent on whether you are purchasing single trip passes or day passes. Las Vegas locals and visiting taco lovers alike can purchase Las Vegas Monorail tickets online to receive the monorail discount and get ahead on planning a day of eating tacos and enjoying the unique atmosphere of Vegas.
If you are planning to check out some of Las Vegas' hottest taco joints, purchase your Las Vegas Monorail tickets online to save now and make traveling easier!
Enjoy some tacos in Las Vegas
While it may be overwhelming to choose just where to stop for a good taco, it's unlikely that you will go wrong based on how amazing all of these options are. Indulge yourself and enjoy as many tacos as you wish during your visit because after all, what happens in Vegas stays in Vegas.
Sources: 
The 15 Best Tacos in Las Vegas. (2022).
Karel, J. 16 Tacos Shops to Try in Las Vegas and Henderson Right Now. (2023).